NBAA Schedulers and Dispatchers
March 10-13
Charlotte, NC
NBAA Schedulers and Dispatchers
March 10-13
Charlotte, NC
Meet your next customer
BEFORE
Get noticed by your customers & prospects DURING
Continue the conversation
AFTER
Meet your next customer
BEFORE
Get noticed by your customers & prospects DURING
Continue the conversation
AFTER
With smart, impactful marketing opportunities around Schedulers & Dispatchers!
Reach nearly 44,000 business aviation owners, operators & decision-makers!
Make your impact – in print, newsletter and online with the industry's essential source of "how-to" operational and market intelligence.
March Issue
Editorial highlights include:
The 10 most challenging business aviation airports
How impulsivity, machismo, invulnerability and resignation impact cockpit performance
–  Distributed throughout Schedulers & Dispatchers and digitally worldwide
CLOSING SOON!
Business Aviation Digest Newsletter
Distributed to nearly 59,000 business aviation professionals 3X per week!
Make sure your message is included in this newsletter that delivers a 32% open rate!
Business Aviation Market Channel
Formerly BCADigital.com, this channel delivers a continuous stream of dynamic content, news, data, blogs and insights from across the business aviation portfolio
NEW – When precision-targeting is what your message needs!
Business aviation sub-market categories include:
Aircraft & propulsion
Interiors & Connectivity
Airports, FBOs and Suppliers
Flight Deck
Safety, Ops & Regulation
Maintenance & Training
Events
Did You Know? The website delivers:
Reach decision-makers who drive the business
of business aviation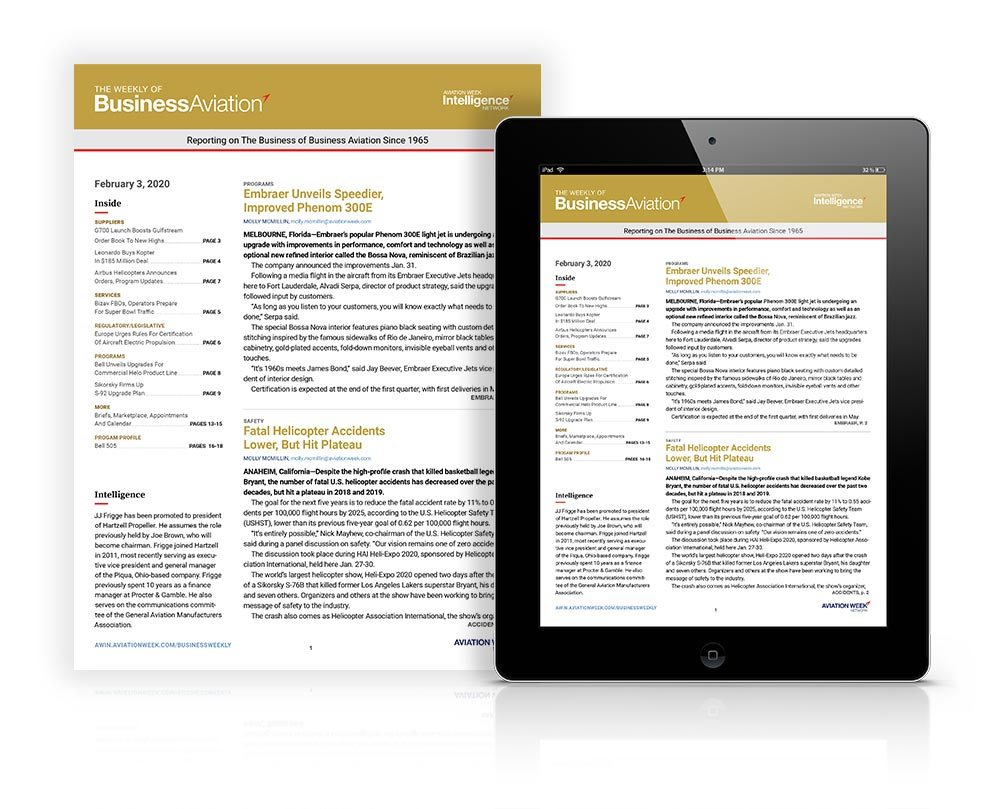 Spotlight your company in the Weekly of Business Aviation- a market briefing that delivers the latest business aviation data and intelligence and reach 5,800+ business aviation professionals at ABACE and online with an exclusive onsite distribution sponsorship!
As an exclusive sponsor, you'll receive:
"Brought to you by" mention with company logo OR a special ad unit on the front of The Weekly of Business Aviation show copies
Cover 4 ad in The Weekly of Business Aviation with print & digital opportunities!
Additional sponsorship opportunities are available as well!  A great opportunity to make your presence known at EBACE!
Reach FBO and Air Charter Professionals Worldwide
Business Airport, FBO and Services Data
Over 50,000 pilots and flight planners worldwide rely on AC-U-KWIK every day for essential pre-flight planning information.  Reach them with an integrated campaign that includes print, digital (AC-U-KWIK.com) and newsletter opportunities!
Complete Guide to Business & Personal Aircraft Charter
Promote your air charter business to over 15,000 print users and 28,000 monthly digital users in the definitive resource for air charter! Print, digital (aircharterguide.com), plus eNewsletter options with high-impact ad units are available.
Reach the decision-makers who drive the transactions
More than 4,000 key decision-makers, including aircraft owners, OEMS, bankers and insurance companies across the globe turn to Aircraft Bluebook – the most accurate and timely assessment of the business and general aviation marketplace.  Reach them with an integrated campaign that includes print, digital (Aircraftbluebook.com) and eNewsletter opportunities.
Key Business & Commercial Airport Data
Flight departments rely on Airportdata.com for essential information on airport, ground handling and related service company data. Make an impact with those commercial passenger and cargo carries with a high-impact advertising campaign!
Reach buyers year-round!
MRO Links is the global, digital marketplace where airline and MRO buyers connect directly to commercial aviation aftermarket products, services, manufacturers, and suppliers.
Need to promote your company's products and services? See how a custom MRO Links profile can work for you!
Marketing Services —  Reach MORE buyers with MORE impact
Reach over 1.7 million A&D professionals across the globe. Utilize our channels, including our marketing services opportunities to reach your target market, generate leads and make an impact.
What do we deliver?
Industry-leading A&D database across all markets, titles, job functions and geographic locations
Lead generation and lead nurturing programs that include content marketing, content syndication, webinars, audience extension, 3-touch email programs and more
Integrated print/digital programs for streamlined, efficient media buys
Research and analysis offerings that deliver the information you need to make confident decisions
Source - Publishers Own Data: October 2019
Copyright © 2023. All Rights Reserved. Informa Markets, a trading division of Informa PLC.