We provide the tools and services
to help you know, predict and connect
on a global scale.
DID YOU KNOW?
Whether you're involved in operating, dispatching, maintaining, financing or purchasing business aviation aircraft  – or need the data, analysis, and competitive insights to analyze the business aviation market  – our portfolio of products and services can help you fly smarter, grow your business and connect with global business aviation decision-makers.
KNOW. PREDICT. CONNECT.
For a complete overview of our business aviation offerings, watch our short video.
For Your Industry Insight, Intelligence and Show Coverage Needs.
"How-to" Operational insights
Monthly, global publication delivering "how-to" operational insights from award-winning editors (who are also pilots). BCA covers the full breadth and scope of the industry, including FBO information.
The "Business" of Business Aviation
The Weekly of Business Aviation is a must-read executive market briefing with the latest aviation intelligence and fleet data. It's essential to finding new business and staying ahead of changes in the aviation industry.
Essential  business aviation show daily
Show daily that's laser-focused on executives at key business aviation events worldwide, including ABACE, EBACE and NBAA-BACE. It's printed onsite at events and distributed globally.
For Your In-Person Connection Needs.
Stay tuned for 2019 event dates & locations!
23rd Annual Business & General Aviation Suppliers Conference
Business and general aviation equipment manufacturers, suppliers, financial institutions, analysists and professionals attend this conference for networking opportunities and to connect on industry developments.
For additional information – to attend or sponsor, click here
1st Annual Readership Awards
October 2, 2018, Scottsdale Arizona
Co-located with the Business & General Aviation Conference
The BCA Readership Awards recognizes leaders in business aviation that have demonstrated exceptional performance and advanced the business aviation community.
For additional information – to attend or sponsor, click here.
For Your FBO, Airport and Air Charter Information Needs.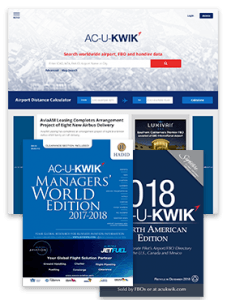 FBO & Airport Services
Locate pre-flight planning information for airports, FBOs, handlers, fuel providers, customs info, and business aviation service providers across the world. Check it out on  acukwik.com.
Complete Airport Data Service
The complete information source for airport, ground handling and related service company data. Compiled with the input of experienced pilots and dispatchers,  Airportdata.com is key to your pre-flight planning and dispatch operations.
Premier Air Charter Services
The premier charter buyer's guide of on-demand worldwide charter for 30 years. This directory delivers contact and fleet details for commercially licensed aircraft operators in 148 countries worldwide. Learn more at  Aircharterguide.com.
For Your Business Aviation Market Intelligence, Fleet Data & Forecast Needs.
Premier Resource for Aircraft Values
Aicraft Bluebook delivers the value of over 6,000 types of business and general aviation aircraft. From an online database that includes a 25 year historical value reference, to a fleet manager and a newsletter, Aircraft Bluebook is the premier resource for aircraft values.
Provides Policy & Regulatory Actions
The Aviation Week Intelligence Network delivers programs, people and company data with expert intelligence. AWIN business aviation includes fleet data on over 30,000 turbine-powered aircraft and their engines for more than 23,000 operators.
Analyze Fleet Lifecycles
Trust Fleet Discovery, with its comprehensive fleet details, to ascertain an Operator's fleet; owner, operator and lessor information; technical specifications and more.
10 Year Fleet Forecasts
The 2019 Business Aviation Fleet & MRO Forecast is an essential business planning resource, with its details going out 10 years, on the size and scope of maintenance requirements for western-produced turbo-props and jet powered business aircraft.
We can help you. Contact us today.
Copyright © 2023. All Rights Reserved. Informa Markets, a trading division of Informa PLC.